What you'll achieve in this section

2. Learn how to combine social media with your quiz to grow your organic traffic
3. Start building a community of your dream customers and clients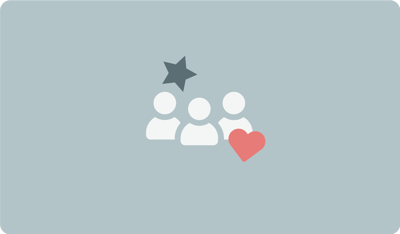 Step 1: Add Your Quiz to Your Website
Now that you've done the hard work of creating a fun, informative quiz that seamlessly integrates with your email marketing strategy, it's time to spread the word...
The best place to start?
If you guessed your own website, you're correct — here's a virtual cookie!
Adding your quiz to your website will massively increase your visitor to subscriber conversion rate. And even better yet, you already know that those who join your email list through the quiz on your website are interested in your products or services, so they are a warmer lead than traffic from an ad.
So maybe you're wondering what your options are…
You've probably invested time and money into designing a gorgeous website, and you don't want a misplaced quiz to mess up it's UX magic — luckily, we've got you covered.
With our direct integrations, it's simple to promote your quiz all over your website — whether your site's custom coded or you use any website builders in the digital universe.
Pop-up? Header? Footer? Smack dab in the middle of your homepage? As a blog post Call to Action? Anywhere else you can imagine?
Yes, exactly. Anywhere you can imagine.
And you can even redirect quiz results to your custom landing pages without losing any of your segmentation abilities.
So let's get into the "how" because Interact gives you a few different options.
Before you begin the process of adding your quiz to your website, make sure to double check that your quiz is published. You can do this from your Interact Dashboard by clicking "SHARE AND EMBED."

If you haven't published your quiz or have any unpublished changes this window will pop up:

Simply click "PUBLISH CHANGES," and you'll be taken to Interact's options for embedding and sharing your quiz: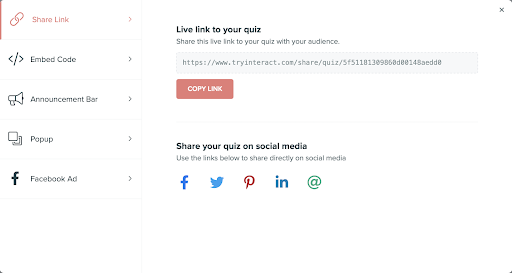 Select "Embed Code" from the options on the left and choose between iFrame, Javascript, and Wordpress depending on your website builder: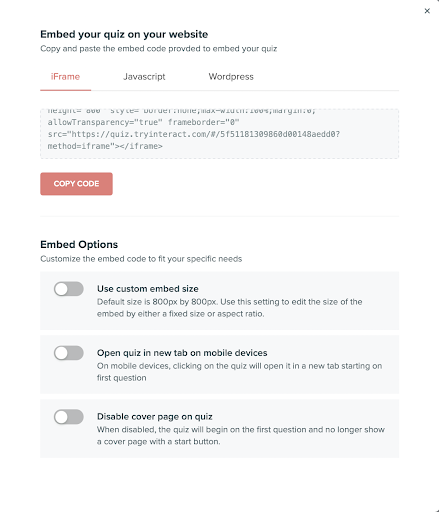 No matter which you choose, you'll have three options to further customize your quiz's code.

You can choose to use a custom embed size, open your quiz in a new tab on mobile devices, which can help reduce your website's bounce rate, and disable your quiz cover on the first page.
Take a second to review your quiz and decide which options work best for you and your website.
Once you've made up your mind, copy and paste your code.
See how Kayse Morris embedded her quiz in the example below: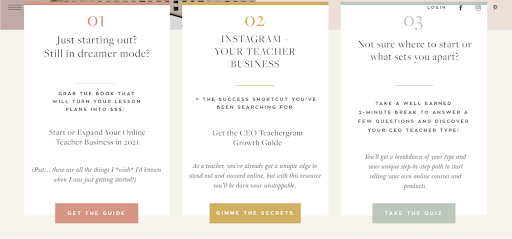 If an announcement bar suits your style, select that option from the menu on the left then customize your announcement and button text and colors!
Check out a quiz announcement bar in action from our girl, Chanti: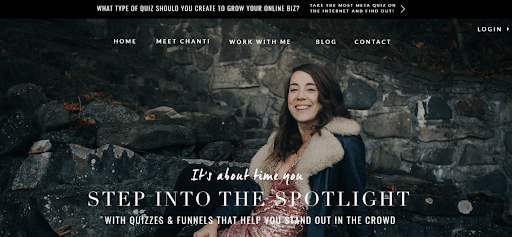 Another option is to add your quiz as a popup window. Popups are a great way to ensure that everyone who visits your website has the option to take your quiz — you can't miss it.
Select "Popup" from the "SHARE & EMBED" menu then customize your popup. You can choose the background color, timer delay, which means how long a visitor is on your site before the popup appears, and hiatus, which means how long the visitor stays on your site before the popup disappears.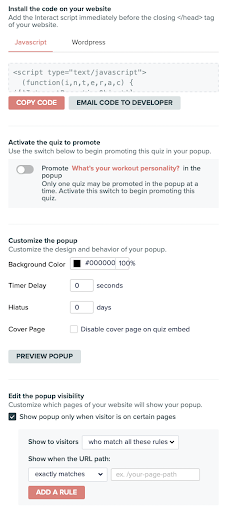 Step 2: Promote on Social Media
Now that you've added your quiz to your website, it's time to use the power of social media to share it with the rest of the world and, in doing so, connect with your dream customers or clients!
Here's the deal: be easy on yourself! Start by sharing your quiz on whichever social media platform you feel most comfortable with → then over time, start sharing on the others!
To get started, let's save the live link to your quiz, which will allow you to share it everywhere from Instagram to LinkedIn.
Navigate to your Interact Dashboard and select "SHARE & EMBED" from the options beside your quiz. Next, click "Share Link" from the menu on the left, then click "COPY LINK," which will automatically copy the link to your clipboard: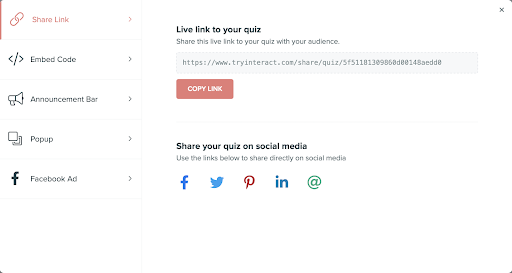 Facebook and Instagram
Next, select one of the options from below the preview of your link and start sharing it.
For Instagram and Facebook, use a free design software, like Canva, to create a post, a carousel post, and 3-5 stories announcing your new quiz (we've got some templates already made up for you to use in the Quiz Collective!).

Post your stories over the next couple of weeks to attract a steady stream of traffic and make sure to use a link-in-bio app like linktr.ee to add your quiz to your Instagram profile, which will make it as easy as possible for people to take it.
Pinterest
For Pinterest, set a bit of time aside to make 5-10 pins to post in the next couple of weeks.

If you're new to Pinterest, do a bit of research and find popular boards that relate to your quiz topic, which will ensure that the right people see your quiz.

You can also use Idea Pins, which function similarly to Instagram stories to build buzz about your quiz, but make sure to add your live link to your Pinterest profile because Idea pins don't give your viewer the ability to click directly through.
LinkedIn
While LinkedIn might not seem the most likely place for a quiz, if it's where you (and your ideal clients and customers!) usually show up, then you should definitely share it there.
Clubhouse
Add the quiz to your bio in a few places, where it makes sense. (meaning you talk about the service, offer, etc.) - say the name of the quiz and add the link. Also add to the very bottom (because sometimes people scroll down to the bottom and miss the middle).
It's key to be active on Clubhouse - going into "rooms" and engaging, asking questions "on stage," and "moderating rooms."
That way - people will automatically be checking out your bio - and they'll see the quiz!
Pro tip: instead of simply copying and pasting your quiz link, try writing a bit of compelling copy to attract people to take your quiz.
Things To Remember:
If the thought of promoting your quiz everywhere from Instagram to LinkedIn has your mind spinning, it might be useful to create a content calendar, which will ensure that you're directing traffic to your quiz from a variety of sources on a regular basis.
This business growth thing is a long game.

Make a point of regularly directing people towards your quiz and ask them to report back on how their results resonated and what their biggest takeaways were. Then engage with them and repost their answers!

Action Steps
Review your website and decide which way of displaying your quiz works best. Publish the most recent version of your quiz, then copy and paste the code into your website builder. We recommend front and center, above the fold, to help you get as much traction as possible.

Copy your share link from the "SHARE & EMBED" menu then set some time aside to create content and a content schedule