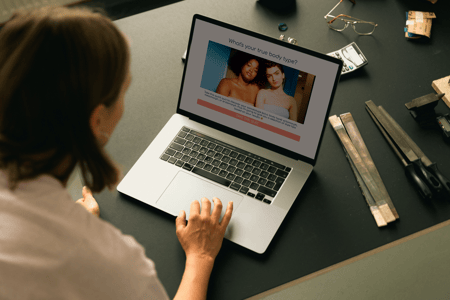 If you already know your business needs a quiz...
... But you're
not sure

what it should be about, or how to create it, and you kind of

wish you'd already launched it yesterday

(or that someone would just

take that create-a-quiz task off your plate

)...
We got you 🤗
Whether you would rather do it yourself, get some 1:1 consulting as you go, or get our conversion copywriters and professional designers to create your quiz for you → you do not have to go it alone.
Choose your adventure and get all of the support you need with our personalized quiz packages ↓
A La Carte Consulting
These personalized sessions give you all the support you need to feel confident to create + launch the best quiz for your business.
Quiz funnel strategy
Marketing expertise
Strategy & user experience
3 month post-launch plan
Post-implementation audit
Starts at $300/session
*available with any Interact plan
VIP Quiz Service
Let us take ALL of the quiz work off your plate with our bespoke quiz packages.
Everything in A La Carte Consulting
+ Quiz strategy calls
+ Voice of Customer Research
+ Quiz copy
+ Design and copy

+ Quiz cover page
+ Quiz results pages*

+ Tech/CRM integration
+ Post-Launch Quiz Optimization Session
Starts at $6000+
*we work with most common website platforms, inquire for more info
Template Customization
Like our templates but looking for something a bit more personalized, ASAP? Let us customize a template for you (this week)!
Here's how:
Choose a template you like
Fill out our questionnaire
We'll update the copy to fit your voice, brand, and offers
Then design your results on your website for you
And integrate Interact with your CRM
All within 6 business days!
Starts at $3000+
*we work with most common website platforms, inquire for more info
Just need some help with the technical side of things?
Tech Integration Services
Don't have time to get your quiz questions into interact, set up your result correlations, and integrate it with your CRM or email marketing software? No problemo, get one of our tech experts to do it for you!
Enter quiz questions into interact
Set up result correlation
Set up segmentation in your CRM
Integrate Interact with your CRM
Build out your funnel
Starts at $400+
*this option does not include writing copy or designing results