What you'll achieve in this section
1. Set your quiz up to generate leads


2. Learn how to write a compelling opt-in form
3. Integrate your quiz and segmentation strategy with the rest of your marketing platforms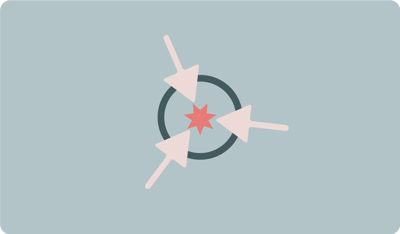 Now this is where the magic happens and your new leads both join your email list AND get segmented on their way in!
You can tag people based on both your Quiz Results and how your quiz takers answer your Quiz Questions.
But first: you've got to convince them to leave you their contact information!
Don't worry if you're targeting people in the EU or UK, we make it super easy for your quiz to be GDPR compliant.
Step 1: Turn On Lead Generation In the Quiz Builder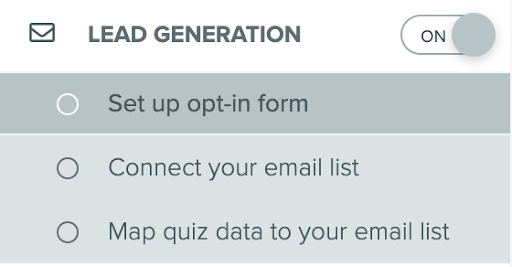 Step 2. Choose Which Contact Information To Collect
We recommend only asking for what you really need to reduce friction and make it as easy as possible for people to choose to opt-in to your email list.

You can use the + Add New Field to include any other information you would like to collect.
Step 3: Decide Whether You'll Allow Users to Skip the Opt-In Form
If you allow users to skip the opt-in form, they will be able to go directly to your quiz results without giving you their contact information.

This might mean that less people sign up for your email list, but it will also help you ensure that those who do join your list are interested.
If you click "Enable GDPR compliant consent checkbox on opt-in form," your quiz takers will be allowed to skip the opt-in form.

Step 4: Write A Compelling Opt-In Form
The best way to get people to opt in for your quiz results is to spell out the benefit of giving you their email address, right in the opt-in form.
Here's how:
Focus on the transformation they'll get from their quiz results. In the example below, Chanti future paced her ideal clients' dream state right in the title of the form with the words "reveal your personalized plan to go from digital course DREAM to reality".


Sell them on the awesome freebie they're going to get from opting-in. This is why combining a quiz with a freebie is such a great idea. Right from the beginning of your relationship with your new lead, you get to prove that you're all about giving value and making their lives better.


Let them know that they can unsubscribe at any time, no hard feelings.
Do these 3 things and you'll transform your opt-in form from a generic bit of copy into a compelling message that helps your people understand how you're going to help them.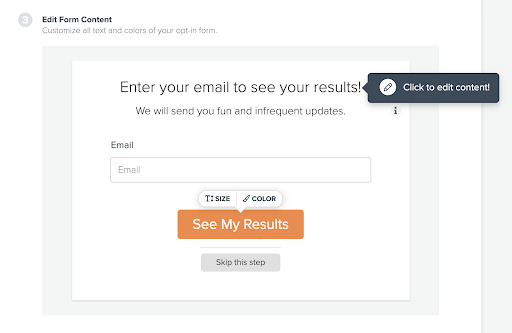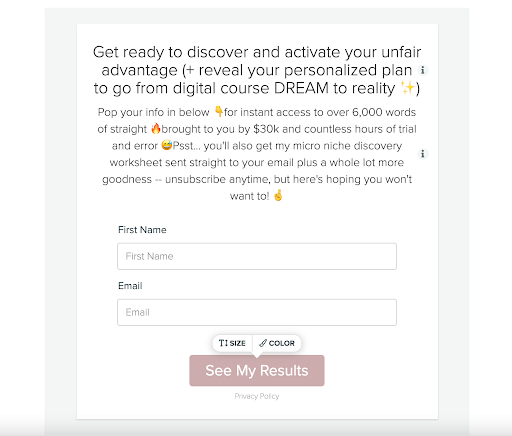 Step 5: Select Your Email Marketing or CRM Program From the List and Complete the Authorization Process to Successfully Connect Your Account
Don't worry if tech gives you the heebie-jeebies!
We've got you covered right here, with a help doc AND video for each of our native integrations and Zapier!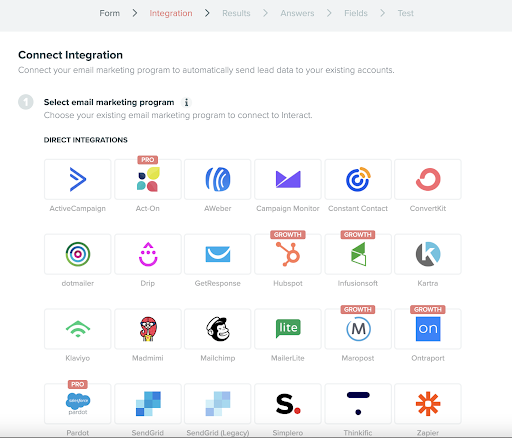 Don't worry if we don't have a native integration for the program that you use: we've got a Zap for that!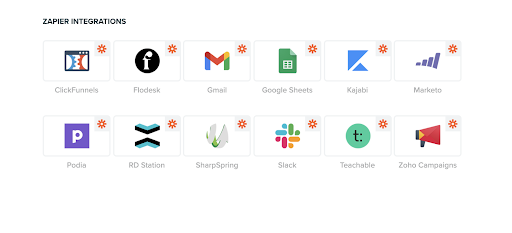 Step 6. Map Quiz Result to Your Email Marketing or CRM Program
Start by selecting a quiz result to set up. Click on an option from the list of quiz results in the left sidebar.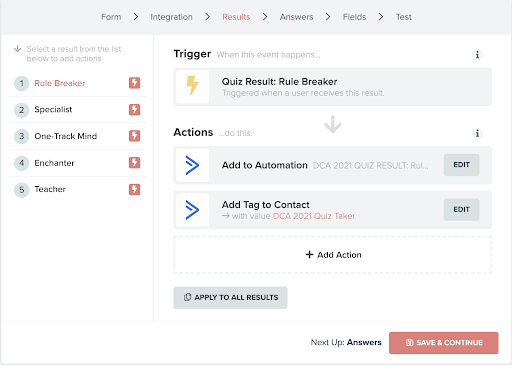 To edit actions, click 'Add Action' and a slider will appear from the right side. You'll see a list of available actions to run in your email marketing program.

In this example, using ActiveCampaign, you can see that leads are added to an automation and tagged as "Quiz Takers".
This automation sends them a welcome sequence (don't worry, more on that in our Email Marketing section of this course!)
You'll see a summary of what actions are connected for each and every trigger.

You can edit existing actions or add additional actions.

If you want to use an existing setup for all quiz results, click "Apply To All Results" and follow the instructions.
Not quite sure what any of this means?
Oh boy, do we ever feel you! That's why we've got support to answer your questions via live chat in the Interact dashboard!
You've got access to in-app chat help Monday - Friday, 9-5 PT.
Step 7. Map Your Question Triggers To Your Email Marketing Program or CRM
In addition to quiz results, you can connect a set of actions to individual answers to the questions you ask in your quiz (not available for all integrations). The setup is identical to the setup for quiz results.
Select your answers from the list in the left sidebar as shown below and then continue mapping your triggers to your email marketing program in the exact same way as you did in Step 7.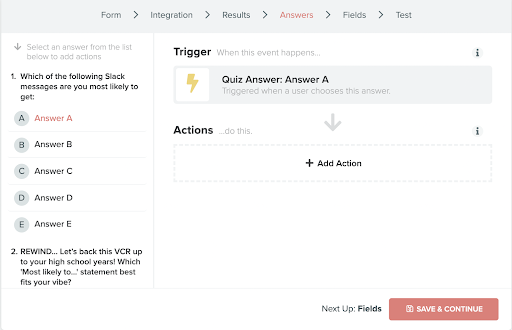 Step 8. Map Opt-In Form Fields
In this step, you will designate where the information you collect in your opt-in form gets added in your email marketing platform.
Use the dropdowns to select the field in your email marketing platform that correlates with the specified opt-in form field.
In the example below, we are going to connect the field Email Address to the ActiveCampaign merge field Email Address, and the field First Name to the ActiveCampaign merge field First Name.
Then you'll repeat the process for every field in your form.
Any fields that you added in Step 2 will need to be set up as custom fields in your email marketing platform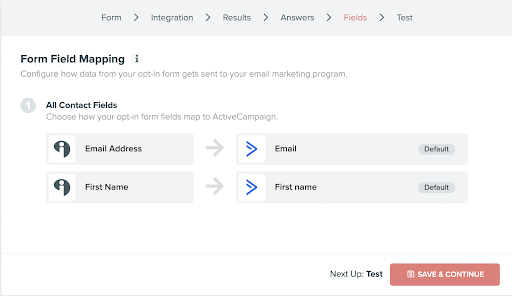 Step 9. Test Your Integrations
Once you've completed the integration setup, you will see a success message along with the ability to test your integration.

Just click the 'Test Integration' button and follow the instructions in the popup to send test data to your email marketing program and test your setup. This is highly recommended!

Additional Resources:
Need support? We've got you covered!

Action Steps
Publish your quiz if you haven't already (Don't worry, you can always come back and edit it → just make sure that each time you make a change, you hit publish again. Your quiz will automatically save your edits, but they won't go live into the real world until you hit "publish" again.)

Connect it to your email marketing platform or CRM