What you'll achieve in this section
1. Overcome some limiting beliefs around email marketing


2. Learn some Email Marketing and Subject Line best practices
3. Find out what to put in your post-quiz follow up emails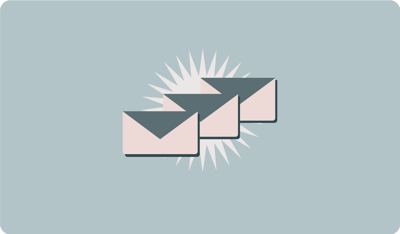 If you're here to grow your list with a quiz, then you better make sure you send at least a few quiz follow-up emails as a welcome sequence. Especially because, in general, the first couple of emails you send a new subscriber are likely to end up becoming some of your most opened emails.
And with the things you learn with your quiz (and our awesome integrations!), you're going to be able to send the right people, the right message, at the right time.
The easiest way to do this, is to make sure that your Quiz Results Email (the first thing you'll send your new leads after they opt-in to your email list), speaks directly to the result that they received.
So, even if you don't have time to write a full welcome sequence, take a bit of time to write at least one follow up email for each result. This way, you can continue to build on the know, like, and trust that you've created with your quiz results.
You should definitely at least write one personalized email for each of your quiz results. However, it's easiest if you don't over complicate things, and simply change up the part where you reiterate their results to them.
The rest of your welcome sequence doesn't have to relate to their quiz results, so that can help to decrease the amount of time and work that it takes to really start nurturing your new leads.
Then, as your list grows and you learn more about your audience by taking note of how they're answering your questions and which results they're getting, you can make sure that your messaging matches who they are and what they want.
First things first: Email Marketing Is Not Dead and It Isn't Spam
So many people are scared to email their lists because they don't want people to unsubscribe or mark them as spam.
But the truth is: you want people to unsubscribe from your email list if they aren't your people. And you are not spamming if you send them relevant information based on what you learn in your quiz.

Because:
People want to hear from you:

People actually prefer to receive brand offers through email when you compare it to any other channel
74% of Boomers, 72% of Gen Xers, 64% of Millennials, and 60% of Gen Z think email is the most personal channel to receive communications from brands
99% of people check their inbox every day, with some of us checking 20 times a day. 58% of these people check their email first thing in the morning (probably before they even get out of bed!)

The ROI of Email marketing is $42 for every single $1 spent! That's a 4200% return on investment → and with the information you'll gather from your quiz, you could do even better!
So don't worry about people not wanting to receive your emails, just do your best to nurture your audience and send them relevant messaging and you'll be golden.

Why Welcome Sequences Are So Awesome:
More than 80% of people open welcome emails, which 4 times as many opens and 10 times more clicks than other email types
You get to welcome your new people in and let them know what to expect from you
You can weed out anyone who isn't a fit (literally invite them to unsubscribe!)
You can share about who you are, why you care, how you help people, and what you value
You can meet people where they're at and move them through the stages of awareness until they're ready to buy from you
They're really great for engendering know, like, and trust
Some Email Marketing Best Practices
Before you write an email, get clear on *exactly* who you're writing to so you can get very specific in your messaging→ (hint: your quiz questions and results can help you with this part, especially if you use them to not only research but also segment your audience)


Make sure you speak to the specific pain points and aspirations of who you're writing to


Use stories! Whether it's your story, a testimonial from one of your customer or clients, or even a story about something that's going on in the world, stories help you connect with the real human beings on your email list


Speak directly to your reader. Avoid words like "ours, us, society" and other things like that and use the word "you" instead


Be conversational so your email is fun and easy to read. Then, read your email out loud before you send it. Anywhere that feels awkward out loud is probably not quite worded right


Use on-brand gifs! This can help keep people engaged and also help to convey your brand voice and aesthetic


Make sure that your emails have lots of white space! Big blocks of text are intimidating for the average reader. An easy way to do this is to use shorter paragraphs than you would if you were writing an essay or an article (we like to keep them 3 sentences long or shorter)


Only include one call to action → or maybe one primary call to action with one other in a P.S. That way it's easy for people to take action
Some Subject Line Best Practices
Don't stress about writing subject lines of a certain word or character count, just say what you need to in as little words as possible
Write subject lines that you'd send to a friend
Personalize it! Personalized subject lines can increase your opens by as much as 50%
Use your subject line to create curiosity about the contents of your email, don't just list out the big take away
Don't write just one, write a whole bunch and choose the best
What To Put In Your Minimum Viable Post Quiz Email Sequence
Here's the deal: your minimum viable post quiz email sequence is just ONE email. That's all you need to have in place to launch your quiz and start nurturing your new leads.
From there, you can simply add people to your newsletter and make sure that you're emailing them often to stay top of mind.
Of course, a longer welcome sequence is also a great idea and gives you more of a chance to engender all of that know, like, and trust. But don't let the idea that you need a perfect welcome sequence in place before you can launch your quiz slow hold you back from launching your quiz.
Because once you *do* launch your quiz, you'll be learning so much about your audience that it will be easier for you to write the rest of your welcome sequence.
Here's a simple formula for a 3 email post quiz welcome sequence. Feel free to use it as inspiration but please remember that this is YOUR welcome sequence, so if something below doesn't feel right, don't use it! (And read on to our Additional Resources for a downloadable template you can also use as inspiration!)
Email 1: Send right away after taking your quiz. Make sure you have a different email with relevant messaging for each result.
Remind them of their results
Deliver a relevant freebie if you've got one
Let them know how you can help them Let them know when they can expect to hear from you again
Call to Action: reply to your email to let you know how the quiz resonated
Email 2: Send 1 day after email 1. This email can go to all quiz takers, or if you're feeling inspired, you can add slightly different messaging for each of your results.
Tell your story, who you are and why you care so much. But make sure that you relate your story back to them.
Call to Action: Follow you on social media
Email 3: Send 2 days after email 2
Answer the question of what makes you different from other people or brands in your industry? How do you help people in ways that nobody else does?
Maybe share a story or testimonial of how you have helped your clients or customers
Let them know when they can expect to hear from you again. If you're moving people to your regular newsletter list, let them know how often you'll email and what sort of value they can hope to get in those emails.
Call to Action: Send them to a relevant blog post, podcast, or resource that gives them real value
Your Post-Quiz welcome sequence is designed to welcome your new leads to your community and let them know what they can expect from you.
Have fun with it and let your own voice shine!
And yes: if you've already got a welcome sequence for your business, it's entirely possible to repurpose it for your post quiz welcome sequence.
Just make sure you add a quiz results email to the beginning of your sequence AND you massage your messaging and segmentation to fit in with the rest of your follow up emails to fit with the messaging in your quiz.

Action Step
Fill out the highlighted sections with details of your business and life.

Add your emails to your email marketing software. Need help with this? Ask in our tech channel here.